Authored by Mr. Francis Elder II
List Price: $19.95
8.5" x 11" (21.59 x 27.94 cm)
Black & White on White paper
78 pages
ISBN-13: 978-1536858037
ISBN-10: 153685803X
BISAC: Crafts & Hobbies / Glass & Glassware
AUTOGRAPHED COPY
Order your autographed print copy today directly from the author. Shipping is only
$3 inside the continental US. International shipping is available, contact me for
pricing. Click the link below to order now.

https://squareup.com/store/creations-by-elder/item/art-glass-breaking-glass-to-make-money-vol

(Books normally ship the next business day, depending upon on hand quantity and should get to you within 3 days. Please allow up to 2 weeks for delivery of autographed copies to the continental US)
Wholesale Orders
If you are a reseller of books contact me directly for wholesale discounts.
---
Volume 1
This book encompasses knowledge by the professional glass artist Francis Elder II, who has been doing stained glass and art glass work since 1988.
In this book he explains in easy to understand terms the process of going from a part time hobbyist to becoming a paid artisan. This how-to book explains in detail the steps involved that will allow you to follow your dreams of becoming a paid art glass artist.
He details areas such as; incorporating yourself into your art, designs and pattern making, efficiency, production, custom work, safety, how to price your work, installation and service calls, where and how to sell, insurance, commission sales, using social media, marketing as a whole, teaching and more.
---
Table of Contents
Chapter 1

Do What You Love

You Are Part of Your Art

Customer Satisfaction
Chapter 2

Designs - The Basics

Keeping it Simple

Designing Made Easier

Choosing Designs to Make Money

Pattern Making And Storage
Chapter 3

Efficiency For The Win

Pattern Pieces Or No Pattern Pieces

Size Does Matter

Make Those Scraps Count
Chapter 4

Production

Multiples Versus One At A Time

Custom Orders

Materials
Chapter 5

Safety

Getting The Lead Out

Glass Can Bite!

Warnings And Lead Disclosures

Wear Goggles At All Times
Chapter 6

Selling Price And Charges

Learn Your Market

Quality Matters

Formula For Success

Installation And Service Calls
Chapter 7

Where And How To Sell

Must Haves

Other Helpful Items To Get

Insurance

Farmers Markets

Craft Fairs And Selling Events

Flea Markets

Galleries And Commission Sales

Social Media

In Summary
Chapter 8

Make It To Last

Proper Construction Method

Reinforcement
Chapter 9

Marketing

Cards And Fliers

Banners

Farmers Markets

Coupons

Contact Logs

Signing Your Work

Social Media

Track Your Efforts
Chapter 10

Donations And Family

Donations

Family
Chapter 11

Teaching

Cross Training

In Summary
Chapter 12

Going Forward
---
Screen Shot From Amazon.com (6-5-17)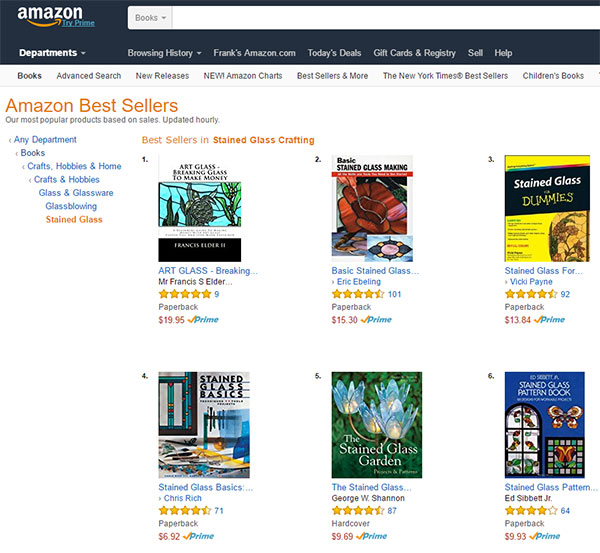 ---
TERMS OF SALE HERE: http://www.creationsbyelder.com/node/9
Note: Please allow for 2 to 3 weeks delivery (Continental United States) for delivery of autographed copies. International orders of autographed copies may take longer.
---