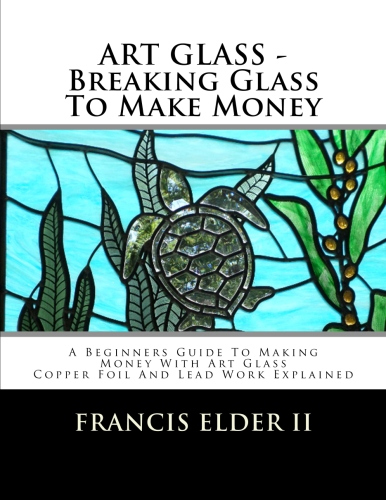 List Price: $19.95
8.5" x 11" (21.59 x 27.94 cm)
Black & White on White paper
78 pages
ISBN-13: 978-1536858037
ISBN-10: 153685803X
BISAC: Crafts & Hobbies / Glass & Glassware
---
To Purchase A Copy: http://www.creationsbyelder.com/node/113
---
Contact Information
Phone: 479-595-6110

Email: support@creationsbyelder.com

Mail: Frank Elder, PO Box 782, Kansas, OK, 74347
---
Author Bio
Francis Elder II began his journey in stained glass in Siloam Springs, AR in 1988 while still in high school. He calls Northwest Arkansas home and currently resides in Northeast Oklahoma, just across the Arkansas line or as he likes to say "A stones throw away.". He was an avid art student through out his time in school and could be found doodling at practically any given moment in time.
When asked by his shop trades teacher if he would volunteer some time to help with artwork and production of several leaded stained glass windows he said yes. After this project was completed the owner of the stained glass studio in Siloam Springs, AR called him one day offering a job at her studio. He accepted and there began his voyage in learning this centuries old trade.
Fast forward to today and he has learned many advanced glass working techniques. One of his primary goals is to impart his knowledge to other established artisan's, encouraging those that want to go further than their practice of glass work being just for themselves and their friends but instead to try and make a living doing what they love. He enjoys talking to and encouraging the young generation of artisan's to help encourage them to follow their dreams.
Read more here: http://www.creationsbyelder.com/node/1
---
Book Facts
Published through CreateSpace, a DBA of On-Demand Publishing LLC, part of the Amazon group of companies.
On the first day of being available for purchase it sold numerous autographed copies as well as purchases of the paperback and Kindle version at Amazon.com through out the United States, Europe and Canada in the subsequent days that followed.
The book attained the number 2 position in the Top 100 Best Sellers on Amazon for the primary paid Kindle category in which it was listed.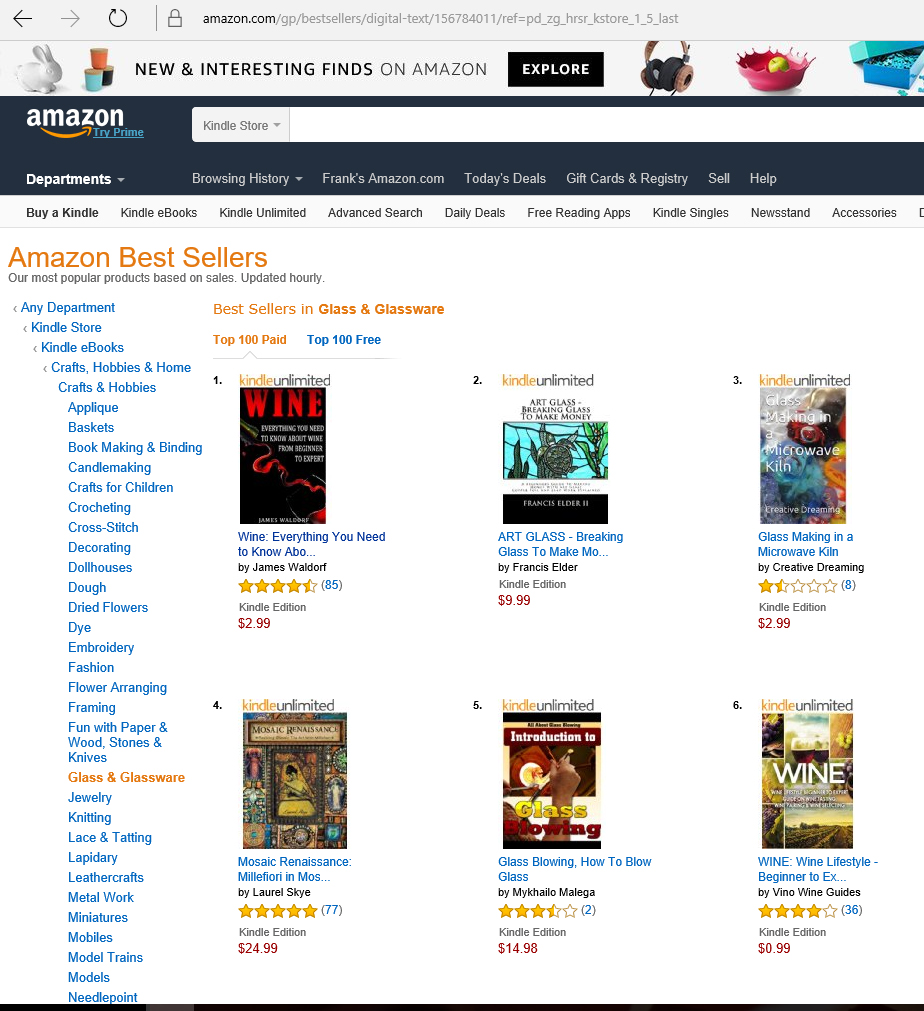 ---
Charitable Work
Francis is a prolific artist of stained glass and art glass pieces. Donating numerous pieces in the past to various charitable organizations to help them in their fundraising goals.
In addition he has also created a line of art glass suncatcher's that he calls "Charitable Suncatcher's". A portion of the proceeds from the sales of these suncatcher's goes to various charitable, non-profit and other organizations. His long term goals are to provide art classes for area veterans as an "art therapy" to help them cope with issues such as PTSD. In addition he hopes to set up an organization that helps to engage young artist's by providing lectures not only by himself but from other local artist's as well. Helping these young artist's understand that they can follow their dreams by giving them the knowledge, support and encouragement to do so.
---
Graphics Files
Book Cover: http://www.creationsbyelder.com/images/8-2-16 COVER FOR ART GLASS - BREAKING GLASS TO MAKE MONEY VOL1.jpg
Author Picture: http://www.creationsbyelder.com/images/frank.jpg
---
Chapter Breakdown
Chapter 1

Do What You Love

You Are Part of Your Art

Customer Satisfaction
Chapter 2

Designs - The Basics

Keeping it Simple

Designing Made Easier

Choosing Designs to Make Money

Pattern Making And Storage
Chapter 3

Efficiency For The Win

Pattern Pieces Or No Pattern Pieces

Size Does Matter

Make Those Scraps Count
Chapter 4

Production

Multiples Versus One At A Time

Custom Orders

Materials
Chapter 5

Safety

Getting The Lead Out

Glass Can Bite!

Warnings And Lead Disclosures

Wear Goggles At All Times
Chapter 6

Selling Price And Charges

Learn Your Market

Quality Matters

Formula For Success

Installation And Service Calls
Chapter 7

Where And How To Sell

Must Haves

Other Helpful Items To Get

Insurance

Farmers Markets

Craft Fairs And Selling Events

Flea Markets

Galleries And Commission Sales

Social Media

In Summary
Chapter 8

Make It To Last

Proper Construction Method

Reinforcement
Chapter 9

Marketing

Cards And Fliers

Banners

Farmers Markets

Coupons

Contact Logs

Signing Your Work

Social Media

Track Your Efforts
Chapter 10

Donations And Family

Donations

Family
Chapter 11

Teaching

Cross Training

In Summary
Chapter 12

Going Forward